Mid-South's local cowboy, Will Lummus of Byhalia, Miss, prepared to return to the Wrangler National Finals Rodeo (NFR) in Las Vegas December 1-10, 2022.  Currently ranked #4 in the World in Steer Wrestling, Will stands ready for an exciting end to an impressive year of rodeo.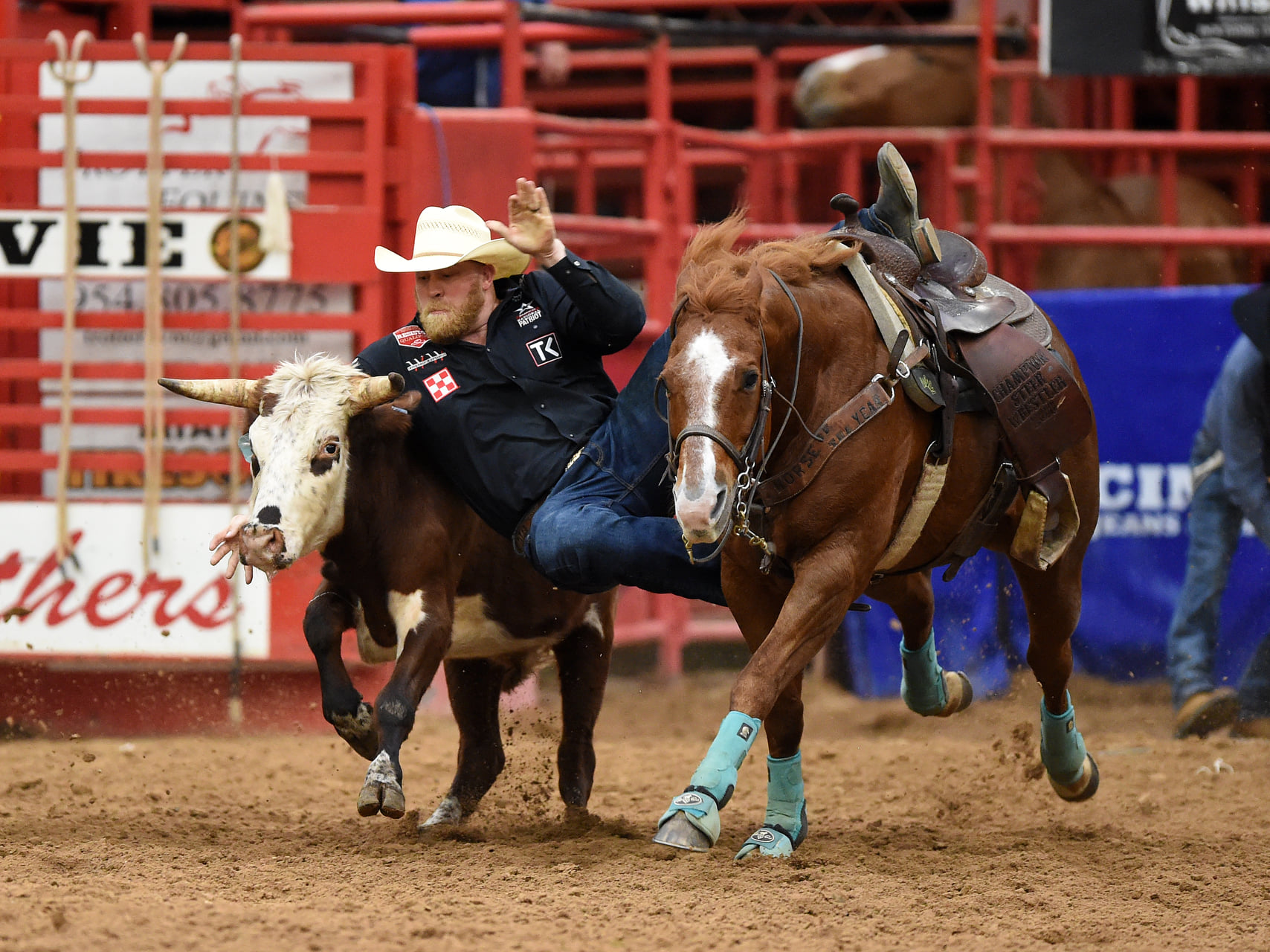 Timing, strength, and technique all come together in the lightning-quick rodeo event known as steer wrestling, or bulldogging. Although only seconds long, "tackling farm animals for a living," as Will describes it, is no easy feat. In his own words, Will explains this thrilling event as two horses, two guys, and one steer. When he gives a nod, the steer is released, and his hazer, who's responsible for keeping the steer as straight as possible, takes off. With Lummus on the left, his hazer, Clayton Hass, on the right, and the steer in the middle they bolt down the arena. When the timing is just right, Will slides off of his horse, catches the steer by the horns, then uses his momentum and strength to take it down. And if you're a world- class competitor like Will Lummus, the whole process only takes 3-4 seconds.
Will and his hazer, Clayton, aren't the only elite athletes involved. Their equine partners play an equally crucial role. Benz, the horse Lummus is competing on, is owned by Hass, and "always does his job," Will explained. Originally a head horse in team roping, Benz proved he liked to run, but didn't like to rein. Once he was introduced to steer wrestling it was a clear fit for the equine athlete, and an amazing partnership evolved. "He's always honest in the box," Will said of his equine ally. When asked how he knew Benz would make a good partner to take to the NFR, Will simply stated, "It just has to feel good, and I like how [Benz] feels."
Consistency is one of the many attributes that makes Will Lummus a world-class bulldogger. Since making his first appearance in the NFR in 2018, he finished in the top 5 three of those years. In 2021 he won the NFR Average and was also named the Reserve World Champion. Numerous top-notch wins, including Coleman PRCA Rodeo and Gladewater Round-Up Rodeo, throughout 2022 set the stage for an exceptional year. Last July he secured a prestigious win as the Calgary Stampede Steer Wrestling Champion with the fastest time of 3.6 seconds.
"Winning Calgary allowed me to coast the rest of the year," Will said. Instead of the usual 70-80 rodeos per year, his Calgary winnings that went toward qualifying for the 2022 NFR allowed him to compete in only 53 rodeos in 2022, which meant more time spent at home in Byhalia, Miss. with his wife, Jenna. As a local circuit barrel racer, Jenna is no stranger to rodeo herself. When not competing, home is where you will most likely find the rodeo pair. There's always work to do around their newly built home.
Watching his father, Luke Lummus, ride bulls and his Uncle Bob go to the NFR four times himself, Will grew up knowing he wanted to rodeo. Participating in both high school and college rodeos paved the way for his successful career in the professional rodeo world. In fact, Will was inducted into the University of Tennessee at Martin's Rodeo Hall of Fame for his part in helping the 2014 men's rodeo team win the National Men's Team Title at the College National Finals Rodeo. Will's family, however, is not only responsible for getting him started in rodeo; he credits the support of both his family and friends in carrying him through the challenges that come along with being a professional Steer Wrestler and life on the road. When his season slows down he's able to reverse the roles of competitor and supporter and encourage Jenna at her Jackpot Barrel Races. It helps put everything back in perspective. "That's when rodeo becomes more fun and less like a job," Lummus stated.
In his spare time, Lummus coaches the rodeo team for Northwest Mississippi Community College in Senatobia. He said, "It feels awesome to give back to college rodeo in the same region where my background is and teach others what I've learned in my rodeo career." His advice for the next generation of cowboys and cowgirls is to "practice with a purpose and control your mind." Regardless of the level of talent, the mental aspect of rodeo is most important, according to Lummus. He said there's an old rodeo saying: " 'You can't take your last win or last defeat to the next rodeo' or you'll come in too confident or too down." This is something he tries to instill in his students.
Along with his family, friends, and fans, the Mid-South will be cheering Will Lummus on as he competes in the NFR for his fifth time. Check your local listings and tune in to see this local bulldogger continue to amaze. You can send him good luck wishes on his Facebook page, Will Lummus Professional Steer Wrestler, or on Instagram @wlummus20.