Ashley Fant of Ashley Fant Show Stables in Eads, Tenn., is kicking off her educational series: Steps to the Show Ring.  This series of educational talks, sponsored by Tennessee Equine Hospital, starts Friday, April 7, 2023, at the WTHJA's Springtime in Dixie Rated Hunter/Jumper show.  Ashley herself will introduce the program, and a talk with the techs of TN Equine Hospital will follow.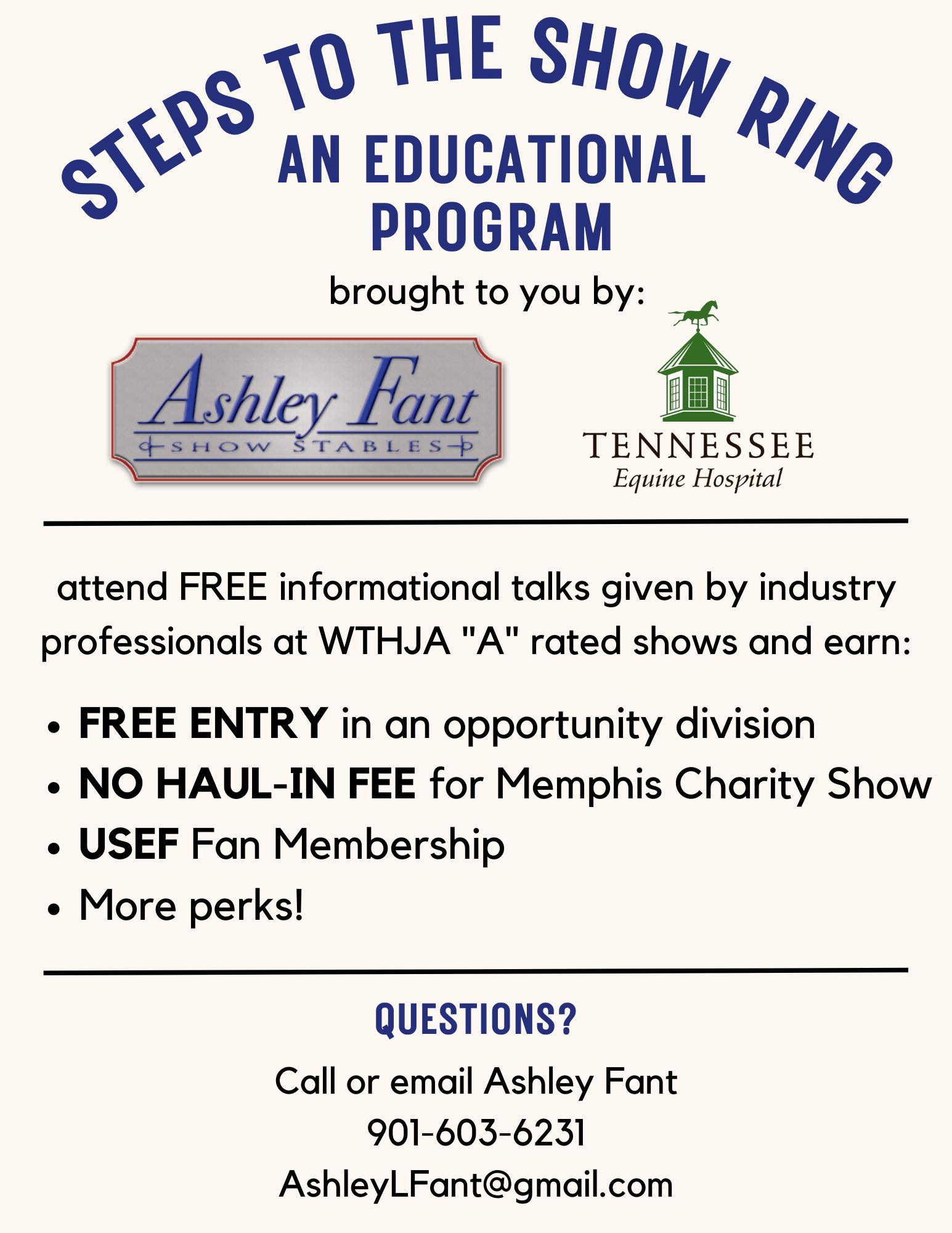 Fant has secured equine professional speakers for this series from a variety of backgrounds, including veterinary medicine, farriers, and horse show management representatives.

One of her goals for the series is to educate riders on how to step into horse industry careers and horse show production careers. "This program is open and free to all interested parties who want to learn more about jobs in the equine industry, specifically those related to horse shows, show production, and the care and preparation of performance horses," Ashley explained.

Fant encourages you to have your attendance recorded at the educational talks, as full attendance of this series gives a rider a waived Opportunity Division fee and a no haul-in fee at the Memphis Charity Horse Show in November. A USEF Fan Membership and other perks are also attainable through this series.

Ashley's passion is evident, as this educational series she has created is designed to provide a pathway for equestrians to get into the show ring. "This series can open up opportunities for riders looking for ways to show. Many people work extremely hard and make sacrifices to get to the level of showing they want to be at. This is open to everyone willing to do the hard work and learn," she stated.

Fant believes individuals and young riders who are either outside the horse world or currently in lesson programs will benefit from her educational series as well. "We want to attract kids and adults who aren't currently showing, or who are just getting started; really anyone who is interested in showing," she explained.

All educational talks will take place in the bleachers by the Jumper ring at noon each day of the WTHJA shows listed below and will last approximately 30 minutes. In case of inclement weather the talks will be moved to the pavilion. Ashley stated riders must be on time and stay for the entire talk to have his or her attendance recorded and be eligible for participation credit. Those who achieve full attendance will automatically be eligible for the free entry at the Memphis Charity Horse Show. Awards will be given to those with the most participation credit.
Springtime in Dixie:
April 7th: Program introduction by Ashley Fant & a talk with the techs of TN Equine Hospital
April 8th: WTHJA Show Management Representative on show management and getting involved from the ground up
Springtime Encore:
April 14th: TN Equine Hospital Vet School & becoming a veterinarian
April 15th: John Logan on becoming a farrier & shoeing performance horses
Future Program Dates to put on your calendar:
May 6th & 7th
May 13th & 14th
November 11th & 12th